Episodes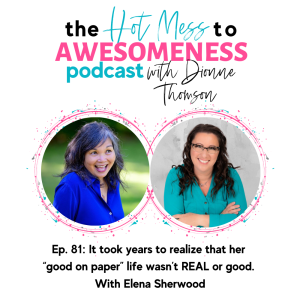 Thursday Dec 02, 2021
Thursday Dec 02, 2021
Ep. 81
When Elena was 17 she came to the stark and life altering realization that if a boyfriend could dump her, then the world could just as quickly leave her behind. 
In that moment she vowed to accumulate  everything she would need to protect herself,  degrees, people, accolades, the right house, the right hair and the right husband, but a trip back to her family home ripped that shouldy mask off and revealed to her that the life she had been living wasn't REAL. 
REAL, to Elena, means coming to terms with our own story and facing all of it, not just the stuff we like or is "comfortable". It's about embracing all that we are the good, the bad ,the ugly, the beautiful and the magical. And her message to you is… 
"The hot mess moments aren't to be discounted, they are to be accepted and valued as part of your journey, as an integral part of your story. That's what it means to be REAL!"
Connect with Elena:
https://www.instagram.com/Dr.elena.sherwood
https://www.facebook.com/elena.d.sherwood
Elena's Dance Party Tunes:
1 - To Be Real by Cheryl Lynn
2 - Sweet Child o' Mine by Guns'n Roses
Interested in getting your hands on my AWESOME Journaling Starter Kit?
Use COUPON CODE: HMTAVIPLISTENER and enjoy 15% off this amazing kit and start building the habit of putting YOU 1st! 
https://www.dionnethomson.com.awesome-journaling-starter-kit 
Are you feeling like a Hot Mess…Not sure where to begin? 
Start with saying YES to YOU! Book your first (free) 45 min coaching session with Dionne! www.dionnethomson.com/talktodionne 
Need a little help to clear out your inner critic's crap right now? Get your body moving… Check out The Awesome Inner Critic Busting Playlist on Spotify inspired by all the guests on The Hot Mess to Awesomeness Podcast!
www.dionnethomson.com/innercriticbustingplaylist
Let's stay connected!
IG  https://www.instagram.com/dionne.thomson
FB https://www.facebook.com/dionnethomsoncoaching
Websites:
Coaching: https://www.dionnethomson.com 
Courses: https://www.theawesomenessacademy.com