Episodes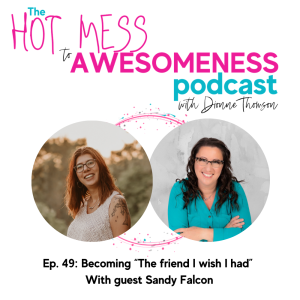 Thursday Feb 25, 2021
Thursday Feb 25, 2021
Ep. 49
My guest Sandy, a brilliant Master of Social Justice student, living happily with her husband and 4 children, shared with me an amazing story. When asked about her journey through multiple countries, addiction and raising 4 children, Sandy had this to say...
"For the past decade people thought I had it all together, but I wasn't happy or proud of myself on the inside. Then by some miracle, I came face to face with the part of myself that I'd been hiding from my entire life. It took some work, but I finally realized I am (and always have been) an awesome human being.  And most importantly, that I can love myself without feeling selfish for doing so." 
Now, with her new awareness and commitment to self-love, she jumps at every chance to explore new adventures. One leap she is very proud of is her podcast "The Friend I Wish I Had". It is truly a testament to her amazing journey and has become a light for other women who are struggling to see their awesomeness! 
Check out Sandy's podcast www.thefriendiwishihad.com
Are you feeling like a Hot Mess…Not sure where to begin?
Start with saying YES to YOU! Book your first (free) 45 min coaching session with Dionne! www.dionnethomson.com/talktodionne
And join our community of Busy Women Being Awesome! https://www.facebook.com/groups/busywomenbeingawesome
Need a little help to clear out your inner critic's crap right now? Get your body moving…Check out The Awesome Inner Critic Busting Playlist on Spotify inspired by all the guests on The Hot Mess to Awesomeness Podcast! www.dionnethomson.com/innercriticbustingplaylist
Let's stay connected!
IG https://www.instagram.com/dionne.thomson
FB https://www.facebook.com/dionnethomsoncoaching
Websites:
Coaching: https://www.dionnethomson.com
Courses: https://www.theawesomenessacademy.com
Podcast: http://www.thehotmesstoawesomenesspodcast.com